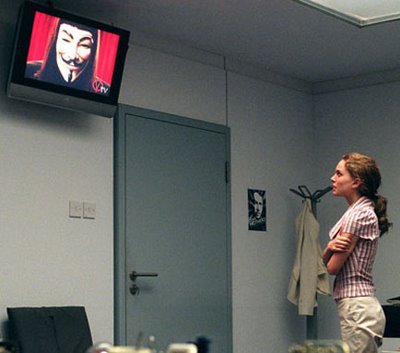 Last weekend we went and saw V for Vendetta, but we were in the middle of our 10 provinces posts, so I am going to post about it now. I really enjoyed this movie, which is not something I can say about too many films that have came out in the last few years. It really leaves you with that sense of "Wow" at the end, which a lot of today's movies are lacking.
So basically there are two main characters. V is the creepy guy with the mask. He is well read, flamboyant, intellectual, a man dedicated to freeing his fellow citizens from those who have terrorized them into compliance. He is also bitter, revenge-seeking, lonely and violent, driven by a personal vendetta. Long term goal: Take down the government.
V is played by Hugo Weaving. He is the guy who played Agent Smith in the Matrix Trilogy and Elrond in the Lord of the Rings trilogy. He saves Evey, played by the incredibly hot Natalie Portman. Evey uncovers V's past and becomes his unlikely ally in his quest for revolution! It was easy to sympathize with V, even though his methods are just as extreme as the government he wishes to topple. One could argue that his treatment of Evey was pure manipulation, which is exactly what he accuses their government of as well.
All-in-all, it is worth seeing and worth paying for. Here are some tracks from the film. Enjoy!
[mp3]
Tchaikovsky - 1812 Overture
[mp3]
Rolling Stones - Street Fighting Man
[mp3]
Rage Against The Machine - Street Fighting Man
* Check out V for Vendetta on
Rotten Tomatoes